NVOCC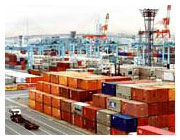 DIMAS CARGO CONTAINER LINE is a leading global NVOCC operating in and between the world's key trading economies with representatives agents in 90 countries. DIMAS CARGO CONTAINER LINE has achieved a reputation for quality service by recognizing and meeting the needs of its global clientele, making professional and personal service the standard of the industry.

DIMAS CARGO CONTAINER LINE provides a wide variety of less than containerload (LCL) and full containerload (FCL) services. With DIMAS CARGO CONTAINER LINE throughout North America, Europe and Asia pacific, DIMAS CARGO CONTAINER LINE trades in these regions and many others via a network of highly qualified agency partners.

In response to requests from customers for highly diversified services, DIMAS CARGO CONTAINER LINE's current portfolio of services covers Europe, Mediterranean, Scandinavia, North America, South America, Central America, Caribbean, Africa, Asia, Australia, South Pacific, Indian Subcontinent and Middle East.

Standard operational policies, data systems and communication procedures are coordinated and streamlined to ensure that customers worldwide receive a consistent level of service. In countries where DIMAS CARGO CONTAINER LINE has agency representation, agency partners are always market leaders within their region, offering quality service that is consistent with the expectations of DIMAS CARGO CONTAINER LINE customers.